Playground
From the 2020 season, Camping Suasa has a new playground!
Float down on the slide, swing high in the sky, make the best moves on the trampoline and balance as the best. The slide and swing were recently placed (they were just finished in the photo below), the buried trampoline and balance tree trunk are made in the spring of 2020. And maybe there will also be a seesaw.
The playground is centrally located on the campsite and close to the swimming pool and the large terrace where you can enjoy a cold drink while you watch the kids play.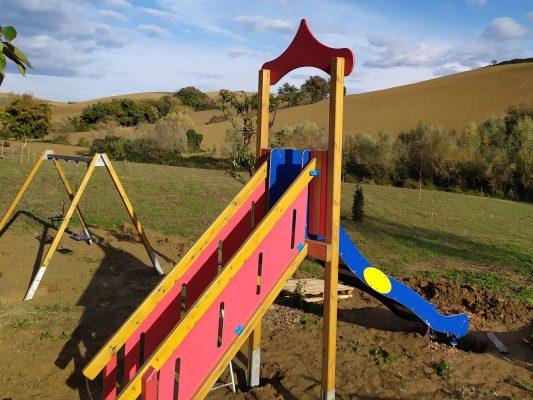 Swimming pool
In the summer of 2019, we were fully renovated after half a year. We then immediately set up a spacious swimming pool of approx. 3 & #215; 6 meters (depth 1.20 meters) that was used extensively throughout the season. From the 2020 season, we are moving this pool to a new location on the campsite, next to the playground and close to the large terrace where you can enjoy a cold drink. The pool will be on a slope, so you can enter it directly from 1 side, without having to climb a ladder. A sun terrace surrounds the swimming pool.
We are currently looking into whether it is possible to install a slightly larger swimming pool before the summer of 2020. This is not certain, but also not unthinkable. Anyway, it is possible to swim again in 2020 at Camping Suasa. In addition to swimming, water can also be played further down the nature playground.
Did you know that the beautiful sandy beach of Senigallia is also less than half an hour's drive from the campsite? This beach is also ideal for children, because it has a very wide shallow end.
Nature playground
At the edge of Camping Suasa, against a small forest, you will find the nature playground. Test your balance, build a bridge, build a castle in the sandbox, crawl through the willow house or take a refreshing outdoor shower. You can build something here yourself, enjoy playing around or just messing around with water and sand.